HYDRAULIC FITTINGS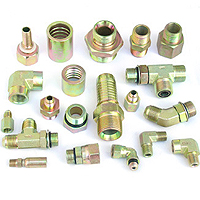 Fittings for Rubber Hose SAE 100 R 1 to R 15.
Male, Female of Thread STD. BSP, NPT, UNF, Metric, JIC and Stand Pipe (BE)Nipple, Flanges of SAE Code 61 and 62 in Straight, 45 Degree and 90 Degree Bend.
90 degree and 45 degree Bends in one piece construction.
Special Swivel Adaptors, Male. Re – Usable Hose Fittings for On-Field Hose Assemblies.
Fittings as per drawing.
Shut Off Valve , Needle Valve, Quick Change Coupling, Gauge Isolator, Throttle cum check valve, check valve, Bonded Seals, Copper Washers, Pipe Clamps.