TEFLON SMOOTH BORE AND CORRUGATED HOSES AND ASSEMBLIES
TEFLON SMOOTH BORE AND CORRUGATED HOSES AND ASSEMBLIES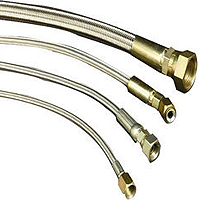 PTFE SMOOTH BORE HOSE
PTFE CORRUGATED HOSE
Size
1/2"NB to 4"NB
With SS 304 Single and double wire braid.
End Fittings
Male, Female of various std. Swivel Flanges on Teflon lined stub ends.
PTFE ( Teflon ) high molecular weight resin displays outstanding resistance to a wide variety of chemicals.
Combined with its superior nonstick properties and wide temperature range, hoses made from Teflon®/PTFE are the ideal problem solvers for virtually all aggressive applications.
A wide operating temperature range
(-60°C to +260°C)
Inert to virtually all chemicals
Resistance to weathering/ageing: unaffected by UV light, resistant to oxidation, surface fouling and discolouration
Non-flammable
Lightweight
Superior flex fatigue life
Low permeability
Extremely low frictional properties
Unlimited shelf life
Preformable
Solvent resistant